Boston Massachusetts Corporate Magician
Joe Ferranti 339-927-4710
Living just a few miles outside of Boston, Joe Ferranti is in high demand for the active global market hosting international business conventions. Boston is a major attraction for numerous reasons. The history of Boston is rich in its part of the American Revolution. Well known events and people, The Tea Party, The Battle of Bunker Hill, Paul Revere, John Hancock…the list is endless. Add to this all the modern day attractions, it is no wonder that Boston is sought out as host to local and global businesses.
Strolling/Walk around Magician Boston Massachusetts and New England
Conventions may last a day, or more. They serve many types of events, some are instrumental for businesses. Even the most serious schedule time for activities for "recreation from the work." Every day there is at least a break for coffee and lunch.
Often in the spirit of Team Building, The Corporate Cocktail Hour can be a time for good food and entertainment.
Boston Corporate Magician
Increasingly popular is the inclusion of Magic entertainment during the cocktail hour. During this time of relaxation and socializing with their peers The strolling magician visits groups of people and provides strong commercial magic that "delights and devastates" the observers. This is the specialty of Boston Magician Joe Ferranti. Whether your group are engineers, surgeons or tech. wizards, they will be "slack jawed" in response to the magical stylings of The Magic of Joe Ferranti.
"We hired Joseph to perform on the exhibit floor of our convention. He was a pleasure to work with from start to finish, and offered a very personalized experience for our attendees. Everyone had a great time. I would highly recommend working with him!"
Adam N. Academy of General Dentistry
Contact Joe Ferranti for a consultation of your event. 339-927-4710
"Our Christmas party featuring Joe Ferranti, the Card Magician/Comedian for 30 people was SUPERB!!!!
The whole team was flabbergasted and in AWE as he mesmerized the audience and drew in the crowd.
We highly recommend him entertaining your next event and give him 5 stars plus!!!!"
Paula Leed, Co-CEO, Royal Jewelers, Andover, MA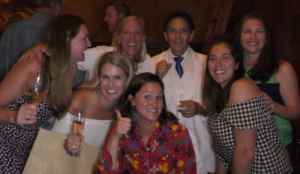 Boston Magician