Professional Boston Massachusetts Magician
Joe Ferranti 339-927-4710
Welcome, no doubt you are here because you like magic, and want to know more about what our services can bring to your event.
The Magic of Joe Ferranti has successfully brought his unique style of magical entertainment to corporate and private events for the past ten years. We are proud to have numerous repeat clients, which tells us we are doing something right. This is not a result brought about by chance. Our success is a matter of design. The Walk Around/Strolling Magic presentation is not a mere "string of tricks," rather, it is a design of the best commercial magic which will please any audience.
Each performance seems to flow in a natural spontaneity, yet the presentations are thoroughly rehearsed and audience tested over hundreds of presentations.What this means is that you are not "rolling the dice" for an experience which delivers a meaningful experience to you and your guests.
Massachusetts' based magician, Joe Ferranti is pleased to work closely with you to ensure your expectations will be exceeded. The Close Up experience will produce laughter, audible gasps, and occasional screams…this is inherent in many magic performances. The performer may not necessarily be comedic. The basis of "magic" is to present something that the audience knows is impossible. A performance is often based on presenting an impossible premise, and then doing the impossible. The moment the magic happens, the denouement compels a reaction from the audience.Personally, I do enjoy the laughter, screams and applause…but stunned silence is also a rewarding reaction. When working in the corporate arena, the loud reactions will "tell" the client who hired you that their guests are having a good time.
It is important to briefly discuss laughter. I address this because some magicians are known to generate laughter at the expense of individuals/helpers in their audience. It is a cheap laugh, but some do it. In fact the stereotype is known to lay people. Let me assure you, that you will hear plenty of laughter, but never at the expense of your audience.
"He is absolutely phenomenal. What a great way to enjoy magic – up close & personal – we were just blown away!" 
You can relax, knowing your entertainer is an experienced professional with a five star track record. With Joe Ferranti, as a part of your team,you will bring an experience to your guests that they will remember for a very long time. 
Walk Around, Strolling Magician Boston Massachusetts
As one of the Best Strolling Magicians in Massachusetts, there is no one who will suit your needs for any event more than Joe Ferranti's Magical Stylings.
We focus on one form of magic…Close up Magic!Whether it be Strolling/Walk Around Magic or the Intimate Parlor Show. The Magic will happen up close. The spectators are personally involved, and often the magic will happen in their hands. They will be thoroughly entertained with amazement and laughter. Whatever reason you have to  celebrate, elevate it with a "touch of Magic." The Magic of Joe Ferranti
The Very Best in Close Up Magic/ Guaranteed! *
Boston Magician Joe Ferranti is the Close Up Magician for your event.
Call today for your free consultation. 339-927-4710
        "Honestly, I can't think of a flaw… He's that professional."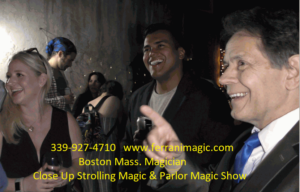 For over ten years we have entertained countless audiences for many corporate and private events. All with a 100% satisfaction guarantee. If for any reason you are not satisfied the fee will be waived.
Close up Magician Boston Massachusetts